The biggest XI
I

International Agricultural Exhibitions «KazAgro/KazFarm-2022» in Kazakhstan!
One of the most visited and widely publicized events in Kazakhstan, aimed at the sustainable development of the agricultural sector and the introduction of modern technologies in the agro-industrial complex.
Date: October 12-14, 2022
Venue : International Exhibition Center "EXPO", Nur-Sultan
Safety Measures
General information and rules for exhibition visitors and participants
The Ashyq system will be used for admission to the exhibition. At the entrance, you need to scan a special QR code through the Ashyq app to determine the visitor's status. If the user does not have a smartphone, the employee checks the user's status on the IIN with their consent in the information system. Visitors with the "yellow/red" status are not allowed to enter the exhibition. Before visiting the exhibition, please download the mobile app, register and check your status on the website ashyq.kz. The Ashyq app can be downloaded from the App Store or Google Play, or from the website ashyq.kz
Exhibitions of the company TOO "ExpoGroup ICS are conducted in strict compliance with all safety and health requirements and recommendations. Please read the rules below carefully.
Entrance is strictly by invitation cards (tickets can be obtained by electronic registration or by mail from the organizers) or at the reception desk
It is mandatory to wear protective medical masks and change them regularly during the day
Disinfect your hands before entering and exiting exhibitions
Body temperature monitoring at the entrance to the exhibition pavilion / business program venue is mandatory
Observe the established social distance (distance of at least 1.5 meters)
We also recommend to disinfect your hands during the day at exhibitions
Hand detergents and hand sanitizers will be available in the restrooms, while additional hand hygiene products will be provided at business venues, at the entrances to halls and pavilions, and in other areas of heavy traffic.
We kindly ask you to take responsibility for your health and strictly follow the established rules together with us.
THE ONLY MEANS OF HOLDING
A STATE INDEPENDENT OF ANYONE IS AGRICULTURE.
POSSESS ALL THE RICHES OF THE WORLD IF YOU HAVE NOTHING TO EAT – YOU DEPEND ON OTHERS.
 Jean Jacques Rousseau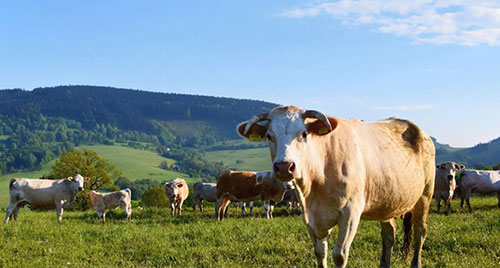 "KazAgro" is an exhibition of agriculture and the food industry.
"KazFarm" – an exhibition on animal husbandry and the meat and dairy industry.
Exhibition sections:
◦ Animal husbandry;
◦ Poultry farming;
◦ Feed;
◦ Veterinary Science;
◦ Financing and lending of SMEs in agro-industrial complex;
◦ Fruit cultivation;
◦ Vegetable growing;
◦ Waste management;
◦ Processing and storage of grain;
◦ Gardening;
◦ Seeds;
◦ Agricultural machinery;
◦ Construction of buildings for agriculture and industry.
◦ Agrarian science and innovation of Kazakhstan.
◦ Agricultural machinery and equipment;
◦ IT technologies for agro-industrial complex;
◦ Regional investment projects in agro-industrial complex.